Hunting Whitetails Volume 2
2 min read
Hunting Whitetails:
The World's Greatest Whitetail Hunters' Secrets Revealed

Volume Two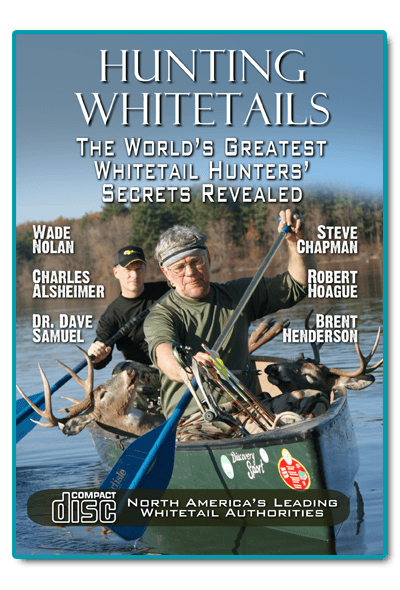 This audio CD features interviews and tips from hunting masters, Wade Nolan, Dr. Dave Samuel, Steve Chapman, Robert Hoague and Charlie Alsheimer and is hosted by Brent Henderson. The CD is packed with information on everything from scent control, interpreting topographical maps, to locating and patterning mature whitetails and understanding deer behavior.
Run time on this disc is approximately 1 hour and 30 minutes. Available online now for only $15 plus shipping and handling.


Meet the Hunters on Volume Two:

Wade Nolan
Bowhunting biologist Wade Nolan is the most followed whitetail professional on the web with over 20,000,000 views of his streaming video tips. Nolan has produced 145 videos, conducted more than 240 whitetail seminars and is featured on the Outdoor channels. Wade's a master at merging current whitetail research with hands on techniques.
Steve Chapman
Steve Chapman is not only a successful singer, songwriter, author and recording artist, but an avid outdoorman whose primary interest is pursuing white-tailed deer. His writings include his best selling book, "Another Look At Life From A Deer Stand" and "A Hunter Sets His Sights", "Full Draw", "Outdoor Insights" and "With God On A Deer Hunt".
Robert Hoague
Robert Hoague is known as Mr. Bowhunting.net. Robert is the founder and Webmaster for Bowhunting.net which is the #1 bowhunting site in the world. Robert spends over 100 days per year photographing and hunting whitetail deer across the US and is an expert hunter with over 50 years of experience.
Dr. Dave Samuel
"Dr Dave" has written for Bowhunter magazine for 40 years. His writings and lectures combine a 30-year knowledge as a wildlife professor with 58 years experience chasing whitetails with the bow. His new books "Whitetail Advantage" and "Whitetail Racks" are acclaimed as classics for hunters. "Dr Dave" was inducted into the Archery Hall of Fame in 2007.
Charlie Alsheimer
Charles is an award-winning outdoor writer, nature photo- grapher, lecturer, and whitetail consultant. He is the senior contributing editor for Deer and Deer Hunting magazine and host of Deer and Deer Hunting TV. He is also a contributing editor for Whitetail News. His work has appeared in Outdoor Life, Field & Stream, Sports Afield, Harris Publications and more.
Brent Henderson
Brent Henderson, the host of the masters, is a professional hunter, who has bow hunted from the plains game of Africa to bear and caribou in the Iliamna mountain range of Alaska. Brent is a nationally known recording artist and when not hunting or fishing, he speaks at over 40 wild game banquets, whitetail deer seminars, and men's retreats across the country every year.